Many people are looking for a specific architectural style when they go to buy a home. Some are interested in Victorian architecture while others go for Spanish Colonial or Tudor. But there are few architectural styles as popular in the United States as the Prairie style, which was pioneered by famed American architect Frank Lloyd Wright. Though Wright himself completed only about 500 buildings in his lifetime, his legacy lives on in many different homes that were inspired by his work or built by his students.

Frank Lloyd Wright was born in 1867 and became a draftsman and contractor just after the great Chicago fire without even finishing his degree. While working at an architectural firm, he decided that the home of the day could be more progressive and began to design homes inspired by the geometric shapes of his childhood blocks. He began by adding bands of horizontal windows, cantilevers, and open floor plans to homes he worked on for the firm, and eventually settled on the Prairie style to call his own.

Prairie style homes were designed to compliment the land they were built on, unlike many homes we know now that simply sit on a patch of land. Frank Lloyd Wright's creations had low, sloping roofs, clean lines, overhangs, and terraces and used unfinished materials like wooden shingles and bricks that blended into the surrounding greenery rather than stood out against it. There were also fewer interior walls, leaving a more Japanese style open plan inside the house. Some of his houses actually incorporate natural features, like streams, into the design of the house.

Though much of Frank Lloyd Wright's energy went into designing residential homes, he also designed several public buildings as well, including the Unity Temple in Oak Park, the Larkin Administration Building in Buffalo, the Price Tower in Bartlesville, Oklahoma, and the Guggenheim Museum in New York City, some of which have since been destroyed and replaced with Ontario commercial real estate. Cities that Lloyd Wright has lived in, such as Chicago and Buffalo, boast the highest surviving concentrations of his work.

Image of a Prairie Style Design (photo credit FLWright.org):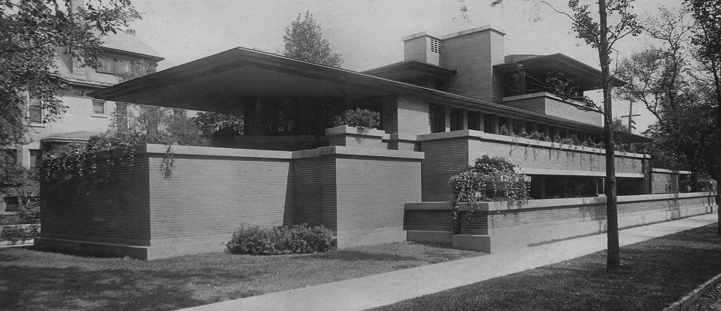 Owning a Frank Lloyd Wright designed home is beyond the reach of most people, as his fame as an architect makes any home he had a hand in collector's items. However, his style was taken up by many later architects, such as Isabel Roberts and Walter Burley Griffen. The Craftsman style of home, which is popular in the Midwest and California, is based on the Prairie style and since they are newer - most being built after World War II - are easier to find and cheaper than original Prairie style homes. If there are no appropriate homes in your area, you can hire an architect to design you one based on this style.